Hurricane Wilma (2005)
Hurricane Wilma occurred between 15 and 25 October 2005. Maximum sustained winds were estimated to be near 105 kt (category 3 intensity) when landfall of the center occurred in southwestern Florida near Cape Romano. The southeastern Florida peninsula experienced at least category 1 hurricane conditions, and that some parts of northern Miami-Dade County, Broward, and Palm Beach Counties likely had category 2 hurricane conditions. Storm surges of 4 to 5 feet were observed over much of the lower and middle Florida Keys, locally to near 7 feet. There was a total of 5 fatalities in the United States with about $20.6 billion property damage [NOAA, 2006]1.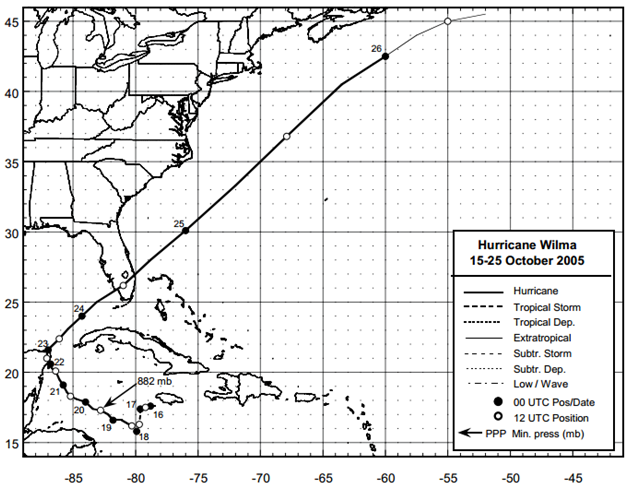 Figure: Best track positions for Hurricane Wilma, 15-25 October 2005 (Source: NOAA1)
1Pasch, R. J., Blake, E. S., Cobb III, H. D., and Roberts, J. P., (January 2006), Tropical Cyclone Report Hurricane Wilma 15-25 October 2005, National Oceanic and Atmospheric Administration – National Hurricane Center.
Imagery
Miscellaneous
| | | |
| --- | --- | --- |
| File Name | Description | Source |
| Wilma 2005 | Including tropical cyclone report, aircraft missions, surface wind field analyses, satellite pictures, wind centers and tracks, radar composites, stepped frequency microwave radiometer, dropsonde data, and photos from flights | NOAA – Atlantic Oceanographic & Meteorological Laboratory |
Report