Hurricane Charley (2004)
Hurricane Charley occurred between 9 and 14 August 2004. Hurricane Charley strengthened rapidly just before striking the southwestern coast of Florida as a Category 4 hurricane. Charley was the strongest hurricane to hit the United States since Andrew in 1992 and, although small in size, it caused catastrophic wind damage in Charlotte County, Florida. Serious damage occurred well inland over the Florida peninsula. Inundation up to 4.2 feet above ground level was observed along portions of Florida coast. Maximum sustained winds up to 78 knots were recorded during this Hurricane in the United States. There was a total of 10 fatalities in the United States with about $7.4 billion property damage [NOAA, 2004]1.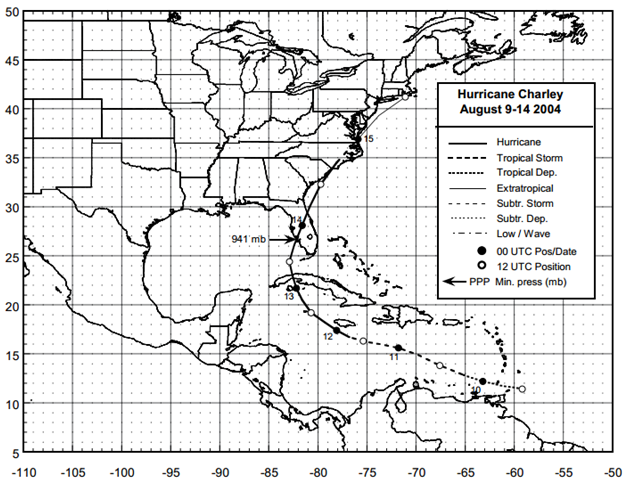 Figure: Best track positions for Hurricane Charley, 9-14 August 2004 (Source: NOAA1)
1Pasch, R. J., Brown, D. P., and Blake, E. S., (October 2004), Tropical Cyclone Report Hurricane Charley 9-14 August 2004, National Oceanic and Atmospheric Administration – National Hurricane Center.

Miscellaneous
| | | |
| --- | --- | --- |
| File Name | Description | Source |
| Hurricane Charley 2004 | Including tropical cyclone report, aircraft missions, surface wind field analyses, satellite pictures, wind centers and tracks, radar composites, stepped frequency microwave radiometer, dropsonde data, and photos from flights | NOAA – Atlantic Oceanographic & Meteorological Laboratory |
Report
| | | |
| --- | --- | --- |
| File Name | Description | Source |
| Post Storm Data Acquisition Aerial Wind Mapping Mission Hurricane Charley - 2004 | A report on the efforts of post storm data acquisition and aerial wind mapping of Hurricane Charley | NOAA – National Weather Service |
| Tropical Cyclone Report Hurricane Charley | The National Hurricane Center's Tropical Cyclone Reports (formerly called Preliminary Reports) contain comprehensive information on each storm, including synoptic history, meteorological statistics, casualties and damages, and the post-analysis best track (six-hourly positions and intensities). | NOAA – National Hurricane Center |
| Atlantic Hurricane Season of 2004 | The Hurricane Season summaries include descriptions of named storms along with pertinent meteorological data and satellite imagery. | NOAA – National Hurricane Center |
| Service Assessment: Hurricane Charley, August 9-15, 2004 | The NWS conducts service assessments of significant weather-related events that result in at least one fatality, numerous injuries requiring hospitalization, extensive property damage, widespread media interest, or an unusual level of scrutiny of NWS operations by the media, EMs, or elected officials. The intent of service assessments is to thoroughly evaluate the NWS performance and ensure the effectiveness of NWS products and services in meeting its mission. | NOAA - National Weather Service |
| FEMA 488, Mitigation Assessment Team Report: Hurricane Charley in Florida (2005) | This report summarizes the observations, conclusions, and recommendations of the Mitigation Assessment Team (MAT) deployed by FEMA on August 19, 2004, in response to Hurricane Charley. The team assessed damage across the width of the storm track, from its landfall near the communities on Sanibel and Captiva Islands to inland areas around Orlando. The MAT visited the following towns: Port Charlotte, Punta Gorda, Punta Gorda Isles, Sanibel Island, Captiva Island, North Captiva Island, Fort Myers Beach, Bokeelia/Pine Island, Cape Coral, Arcadia, Gardner, Zolfo Springs, Wauchula, Bowling Green, Fort Meade, Lake Wales, and Orlando. | FEMA |