About Biomath
Research Experience for Undergraduates (REU) at the Intersection of Mathematics and Biology
What is it?
The Florida Tech Research Experience for Undergraduates program (REU) is funded by the National Science Foundation and offers the opportunity for motivated undergraduates to learn and explore the interesting field of Mathematical Biology. This REU provides research experience for students interested in Biology, Mathematics, or Computer Science. Students will work in teams supported by Math and Biology faculty on real research projects.
Undergraduates who qualify for the REU Program receive a competitive stipend ($500/week), assistance with travel expenses, housing, and a food plan! Students must be a U.S. citizen or have permanent residency to qualify for NSF funding. Students from groups under-represented in the sciences (African Americans, Native Americans, Hispanics, and Pacific Islanders), first-generation college students, women, community college students, and non-traditional students are strongly encouraged to apply.
How does it work?
Students will work in teams of two (one biologist, one mathematician) with faculty supervisors from both the Department of Biological Sciences and Department of Mathematics. They will work together on a research project that incorporates mathematics and biology and, in the process, gain experience in theoretical mathematics and working in the biology laboratory. Weekly lab meetings will allow for discussion of scientific issues related directly to the projects but also for guidance on other issues of importance, such as:
How to choose and apply to graduate school.
What are career opportunities in BioMath?
What are ethical issues in science and research?
Whatever else may come up!
2015 BioMath Family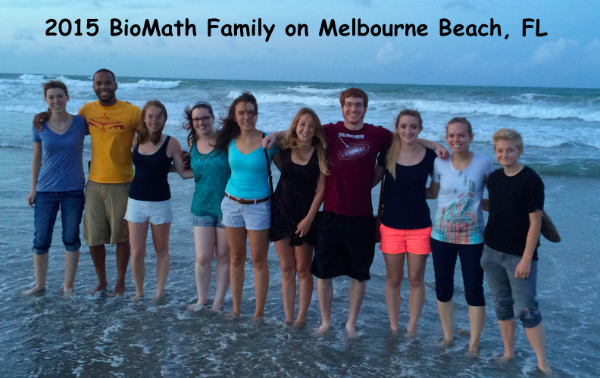 2016 BioMath Family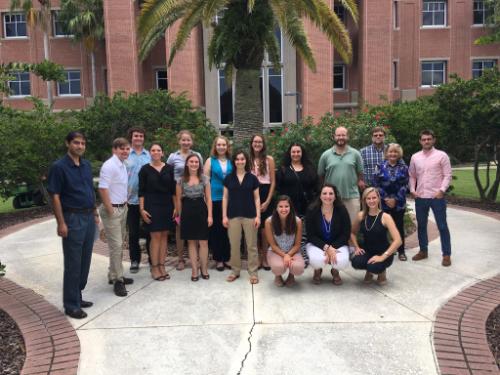 2017 BioMath Family