Workshops and Training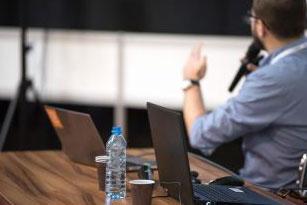 Our customizable interactive workshops and training sessions run from half a day to two days to fit your needs. Some of our most popular programs include:
Leadership Development
In some cases, high-potential employees do not meet their potential because they are never effectively motivated to develop their leadership skills. We custom design leadership development programs that are aligned with business strategies, motivating, fit the organizational culture and are sustainable. We help leaders become more capable and motivated to lead their organizations to new heights.
Executive Coaching
Enhance your executive's success in achieving their professional objectives within the context of an organization's values and business goals. We use proven methodologies to develop the leadership skills of executives, managaers, professionals, and other promising leaders at all levels.
Performance Feedback Workshops
The goal of this training is to create an environment in which individuals are consistently and proactively learning from others, sharing performance feedback, and seeking information to increase their individual performance. This training will develop both feedback delivery and reception skills. The training will ensure that both employees and managers view performance feedback as a critical need for development and performance.
Organizational Communication
The objective of this training session is to teach you the basics of effective workplace communication. At the end of the training session, you will be able to understand the benefits of effective workplace communication, recognize obstacles to effective communication, and communicate more effectively on the job.
Advanced Presentations
The goal of this is to teach participants the core principles of presenting in a business environment. The training will review preparing a presentation, producing the materials, and delivering the presentation.
Making the Transition
Focuses on the transition from non-management to management roles by guiding participants on how to adjust to new working relationships, establish credibility, motivate and communicate, and address and correct performance behaviors.
Interview 360
Designed to increase attendees interviewing skills both as an interviewer and an interviewee. This course is for designed for those that have little to no experience in the interviewing process. Hiring the right employees is a critical skill, and these skills take time to develop and start with a good foundation. This course is designed to build that foundation.