Eastern Tropical Pacific
Reconstructing the History of Eastern Tropical Pacific Coral Reefs
Our current efforts are focused on the Pacific coast of Panamá, where a severe El Niño event in 1982–1983 wiped out populations of the dominant branching coral Pocillopora damicornis. We recently cored reefs across the region to determine whether that coral mass mortality was a unique historical event, or similar coral kills occurred in the past. Our cores revealed a surprising 2500-year hiatus in vertical growth beginning ~4100 years ago as a result of enhanced ENSO activity.
Now we are returning to the ETP to determine whether variability in the oceanography in the ETP region affects the condition of local coral populations. We can then combine our insights from the living coral populations with the insight gained from the paleoecological research, to infer what past conditions were beneficial or inimical to coral growth and reef building.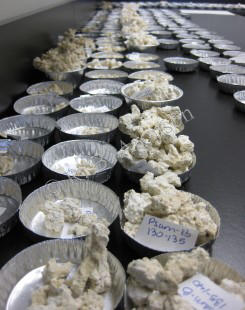 Coral fragments extracted from a core of reef framework and sorted for a geochemical analysis.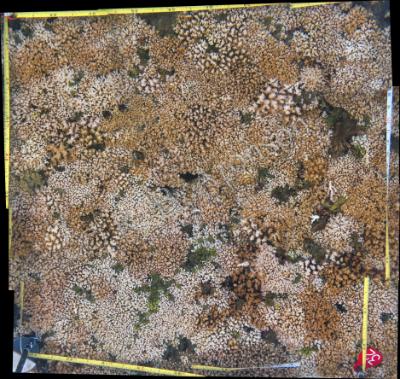 Computer-generated photo-mosaic of a 1-m2 quadrat on a coral reef in Pacific Panama, showing colonies of Pocillopora damicornis. Healthy, brown colonies and pale, bleached colonies are intermixed. We use image analysis to estimate coral cover and the health of the coral populations.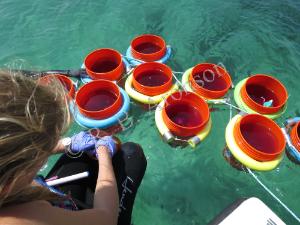 Colonies of Pocillopora damicornis being stained with a red dye for coral-growth experiments in the Gulf of Panama.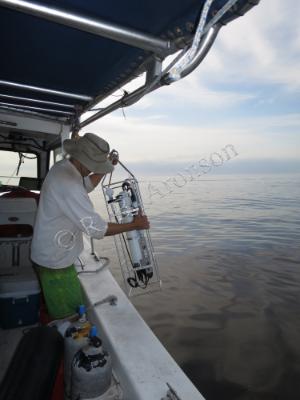 A scientist in Panama deploys oceanographic instruments, including a CTD, which measures the conductivity (salinity), temperature, and depth of the ocean. Note the 'brown tide' in the water below the boat.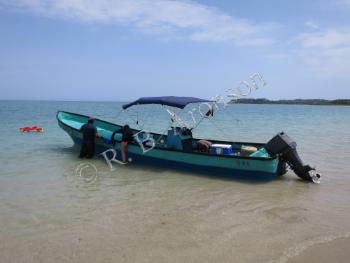 Coral-reef researchers preparing to travel to a field site in the Gulf of Chiriquí.
This research is funded by the National Science Foundation and previously was funded by the Smithsonian Institution.