Our Mission
Our mission is to provide research and educational opportunities for students and serve the local community towards a more sustainable future. Some of our activities include:
Performing Research Projects on Energy Efficiency and Renewable Energy Systems
Support Students with Scholarship and Career Opportunities
Capstone Design Project – ASHRAE Undergraduate Equipment Grant
Students Training and Community Service
Hosting Seminars and Presentations from Experts in the Field
Encourage and Support Students to Attend Conferences
Recent Activities:
ASHRAE Journal Publications and Podcast
ASHRAE Space Coast Community members John Constantinide, PE, CEM, CFPS and Dr. Hamidreza Najafi discuss HVAC in space and extraterrestrial environments in the Jan 2022 episode of the ASHRAE Journal Podcast:
https://www.ashrae.org/news/ashraejournal/ashrae-journal-podcast-season-2-episode-1

H. Najafi, J. Constantinide and B. Lindsay, ASHRAE Building EQ Empowers Schools, Teaches StudentsASHRAE Journal, vol. 64, no. 1, Jan 2022.
J. Constantinide and H. Najafi, Present State and Future of Environmental Control Systems In Space, ASHRAE Journal, vol. 62, no. 7, July 2020. [Featured Article-Cover Page]
Students Training and Community Services
In collaboration with Brevard Public School (BPS), Florida Tech Student Branch performed energy audit for selected schools in the surrounding of it's campus. The school site visits were performed in spring 2019 and the students and branch advisor presented some of their findings in the ASHRAE's Space Coast Chapter Seminar in Oct 2019.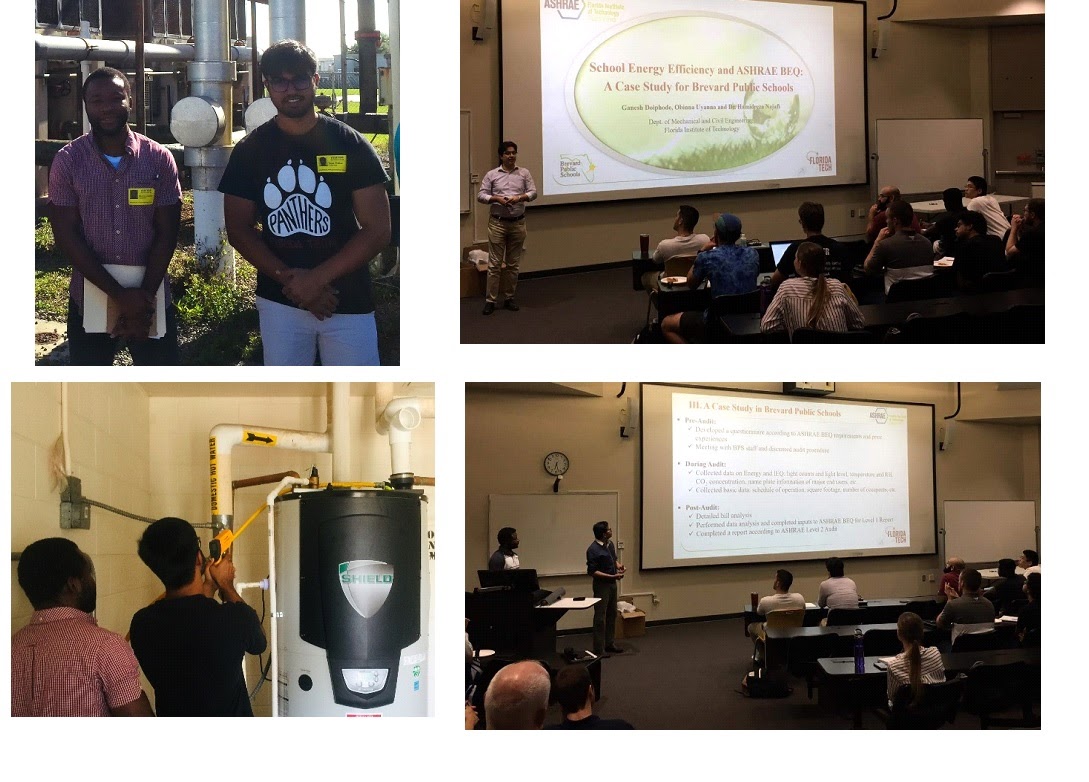 Research
Several of Florida Tech's ASHRAE Branch students participate in research projects on various Energy and HVACR related topics: Net-zero energy buildings, energy efficient educational facilities, renewable energy systems, Innovative HVAC systems, Combined Cooling, Heating and Power Generating (CCHP) Systems, and more.
Senior Design Projects
Dr. Najafi received ASHRAE Undergraduate Equipment Grant for 2019-2020 academic year. The grant is used to support a Capstone Design Project to design and develop a thermoelectric based system for building cooling and heating applications. A group of eleven senior students, majoring in Mechanical Engineering and Computer Science, are working on this project. The system will be developed as an educational apparatus to be used in the Heat Transfer Lab at Florida Tech. The project is scheduled to be completed and presented by April 2020.
Seminars and Presentations
Florida Tech's ASHRAE Student Branch hosts experts to present for students. Some of the recent presentations include:
Core Recommendations for your HVAC Systems in the Age of COVID-19, by Wade Conlan, Manager at Hanson's Commissioning & Energy Discipline, Oct 2021.
HVAC Industry and Sale Engineering, by Jason Aki, Account Manager and Team Lead at Trane U.S. Inc, Oct 2019.
Net Zero Energy Schools in Florida, by Philip Donovan, Studio Principal, Community at Little Diversified Architectural Consulting, April 2019.
ASHRAE Building Energy Quotient, by John Constantinide, Sr. Mechanical Engineer at Alpha MRC Architects Engineers, Nov 2018.
Energy Consumption in Schools, by Bruce Lindsay, Manager of Energy and Resource Conservation at Brevard Public Schools, Nov 2018.
Career Opportunities in HVAC&R, by Jake Rardin, Sales Engineer at Envelop Group, Oct 2018.
ASHRAE Informational Session for Engineering Week at Florida Tech., By: Lee Guthrie, Feb 2017.
Best Practice for Evaluating and Improving Commercial Building Performance, by Bruce Hunn (ASHRAE Distinguished Lecturer), Sept 2016.
Building Energy Modeling Using IES VE Pro by, Ed. Gillett, Project Manager, Government & Commercial Services, SGM Engineering, April 2016.
ASHRAE President Presentation, David T. Underwood, Nov 2015.
Application of Computational Fluid Dynamics (CFD) for Built Environment, Dr. Kishor Khankari (ASHRAE Distinguished Lecturer), Oct 2015.
ASHRAE sOpportunities for Students, by John Constantinide- Sr. Mechanical Engineer at Alpha MRC Architects Engineers, Sept. 2015.
Conference Presentations
Florida Tech's ASHRAE branch students actively participate and present the outcome of their research works in national/international conferences. Some of the recent presentations include:
Dr. Najafi and Obinna Uyanna, ASHRAE Winter Conference (Feb 2020)
Mohadeseh Seyednezhad and Anuj Pant, ASME IMECE (Nov 2019)
Ganesh Doiphode, ASME Energy Sustainability Conference (July 2019)
Obinna Uyanna, ASME Summer Heat Transfer Conference (July 2019)