Research
Overview
WiCE's main research objective is to serve as a nationally and internationally recognized academic and research facility in which students are exposed to both basic theoretical and applied research and development. Areas of particular expertise and interest are:
Wireless Communications
Wireless Multimedia Communications
Wireless Ad-Hoc & Sensor Networks
Quality of Service, Performance Analysis and Optimization
Network Modeling and Simulation
Mobile Analytics and Location-based Systems
Big Data and Internet Systems
Internet-of-Things
Active Research Projects
A Wireless Sensor Networks' Analytics System for Predicting Performance in On-Demand Deployments
By Tajudeen Olasupo, Ph.D. Student; and Dr. Carlos E. Otero, Main Advisor, Dr. Ivica Kostanic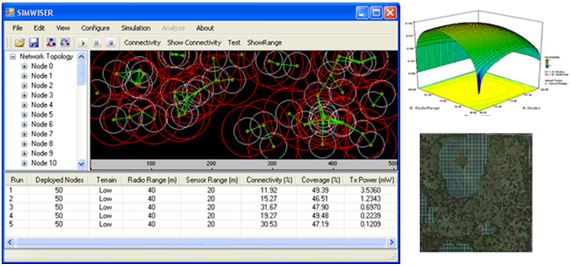 For practical applications, WSN deployments can be time consuming and error prone since they have the utmost challenge of guaranteeing connectivity and proper area coverage upon deployment. This creates an unmet demand for decision-support systems that help manage this complex process. This research focuses on characterization and prediction of optimal deployments of WSN. Specifically, it attempts to create efficient image processing algorithms for terrain classification, to create efficient models for WSN signal propagation under different terrain conditions, and to create optimization and visualization techniques for large-scalel deployments. Results are expected to show a feasible approach that can be used to automatically determine areas of high signal obstruction—which is essential to estimate obstruction parameters in simulations—and mapping of accurate WSN path-loss models to enhance the overall optimization process during predeployment of large-scale WSN.
Call-Drop Classification in 4G Cellular Networks
By Zaid Matloub, Ph.D. Student; Dr. Carlos E. Otero, Principal Investigator, Dr. Ivica Kostanic, Main Advisor
To remain competitive in the cellular market, network providers must provide increased QoS to their users. QoS can be measured using several metrics, including drop-call-rate. This research investigates the major reasons for dropped calls in cellular networks when transmitting both voice and data. The goal of the research is to develop efficient predictive algorithms that would allow autonomous call management strategies that are capable of accurately predicting drop-calls and react accordingly to prevent them from happening.
Mobile Video Quality Prediction (MVQP) Project
By Hamad Almohamedh, Ph.D. Candidate; Fahad Al Qurashi, Ph.D. Candidate; and Dr. Ivica Kostanic, Main Advisor
Mobile Video Quality Prediction (MVQP) project aims to develop a set of tools for measuring and predicting the quality of streaming video over user datagram protocol (UDP) through 3G/4G-LTE cellular networks. MVQP project consists of two phases. Phase one entails development of a raw video database that contains forty representative 4K raw videos. This video database is accessible free of cost to researchers. Phase one ends with an evaluation of live video streaming. Phase two consists of developing the last MVQP tool that's capable of automatically determining video quality over 3G/4G-LTE Cellular Networks by using MOS results in phase one.
Past Research Projects
Hurricane Monitoring with Wireless Sensor Networks (NSF Sponsored)
Performance and QoS evaluation in cellular communication networks (GSM/GPRS/EDGE, UMTS/HSPA, cdma2000/EvDO, WiMAX and LTE)
Performance Evaluation of Single-Carrier FDMA Adaptive CPM in Ka-band Space Communication using SCaN Experimental Platform