Grouper
GROUPER RESEARCH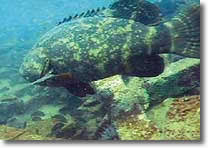 One of the biggest surprises, both literally and figuratively, has been the adoption of some reefs by up to a dozen huge Goliath groupers.
The Sebastian Sportfishing Association, Indian River County, Florida Fish and Wildlife Conservation Commission, and Florida Tech worked together to deploy 7 large artificial reefs off Sebastian Inlet in 1999 and 2000.
Constructed from 1500 concrete railroad ties, each of these reefs immediately attracted huge numbers of baitfish and sport fish. They're very popular for anglers seeking live bait, but catching big fish on these complex structures is quite difficult.
Click on the link below to view a 3-minute video clip of the Goliaths and the other animals living on the reefs. (please be patient - it'll take a little time to load)
The SISA web site gives GPS coordinates and more photos of the reefs