Lab Overview
The Fox Biogeochemistry Laboratory studies trace element and sediment biogeochemistry. We are interested in actionable science used to inform managers and to improve outcomes of environmental engineering projects, including development of innovative new technologies and environmental restoration. The underlying theme among our diverse projects is the expanding temporal and spatial extent of hypoxia, driven by changes to the eutrophic state of coastal systems.
Lab News
January 2023
Check out our recent publication in PLOS ONE (January 2023)! Excited to share results from our study of aeration using microbubbles in residential canals!
https://journals.plos.org/plosone/article/comments?id=10.1371/journal.pone.0280880
April/May 2022
Congratulations Anna Held (Undegraduate Researcher) for winning "Best in Show" in Oceanography, Environmental Science and Marine Biology at the Northrop Grumman student design showcase!
https://www.floridatechvirtualshowroom.com/evaluating-the-water-treatment-potential-of-caulerpa-prolifera-grown-in-low-light-conditions
April 2022
We had a great time at the Indian River Lagoon Symposium (link to abstracts below)! There were a few talks from our lab and or our project partners. For her work helping to develop the bottle caps water treatment system at Florda Tech, Abbey Gering was awarded the new, "Promising Young Scientist" award! Congratulations Abbey and great work!
https://hboifoundation.org/assets/files/IRLS-2022-Abstracts-of-Presentations-final.pdf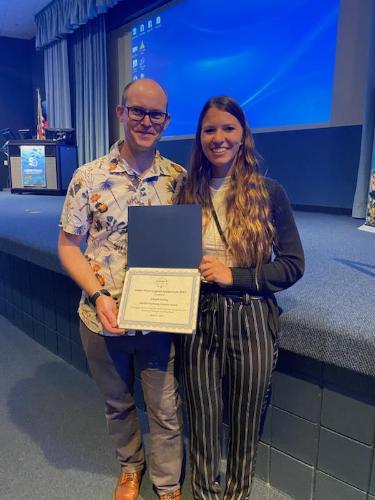 On the radio talking about eutrophication, hypoxia and ecosystem services.
https://www.wfit.org/podcast/today-in-stem/2022-04-07/life-and-death-in-the-indian-river-lagoon
March 2022
Watch our recent webinar, with HOBO dataloggers talking about dissolved oxygen in the Indian River Lagoon.
https://www.youtube.com/embed/keP1RD9_3TM
February 2022
The importance of healthy sand and lagoon circulation is In the news!
https://www.baynews9.com/fl/tampa/news/2022/02/26/florida-tech-researchers-examine-ocean-water-to-help-lagoon-restoration-
January 2022
Excited to contribute to this exciting research! (2022)
https://www.tandfonline.com/doi/full/10.1080/15592324.2021.2004025?scroll=top&needAccess=true
November 2021
Check out our recent (2021) publication in Frontiers in Marine Science!
https://www.frontiersin.org/articles/10.3389/fmars.2021.768083/full
October 2021
Check out our recent (2021) publication in Frontiers in Marine Science!
https://www.frontiersin.org/articles/10.3389/fmars.2021.752945/full
January 2021
Check out our recent (2021) publication in the Journal of Dredging! http://www.westerndredging.org/phocadownload/WEDA_Journal_of_Dredging_(Vol_19_No_1).pdf
November 2020
We are on the front page, again! https://www.floridatoday.com/story/news/local/environment/lagoon/2020/11/24/a-recycling-story-with-twists-plastic-bottle-caps-may-be-a-key-to-cleaning-the-indian-river-lagoon/6232135002/
We are on the front page!
https://www.hometownnewsbrevard.com/news/fit-upcycles-the-humble-bottle-cap/article_d021b03c-2da7-11eb-8f27-3bf24d4f6627.html
2018
Check out our publication about environmental muck dredging in the IRL!
https://www.researchgate.net/publication/327703735_Environmental_Dredging_to_Remove_Fine-Grained_Organic-Rich_Sediments_and_Reduce_Inputs_of_Nitrogen_and_Phosphorus_to_a_Subtropical_Estuary